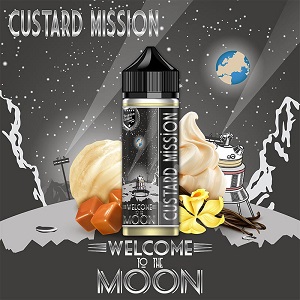 Gagnez des points de fidélité avec chaque produit.
1€ acheté = 1 point en bons d'achat.

Note du produit : 
Partager ce produit sur facebook

« Welcome to the moon »
Ça y est, nos astronautes gourmands ont atterri sur la lune!
Après plus d'un an de travail, l'équipage de la custard mission a travaillé durement pour vous proposer un custard 100% vanille et premium. L'équipage du custard mission pense avoir trouvé la custard ultime et toujours en format 170 in 200ml (70VG)
30PG/70VG
Format 170 dans 200 ml - Chubby V3 original, de quoi vous laisser la place de rajouter jusqu'à 3 boosters de nicotine.
Commandez
Flacon
Dosage
Prix exclusif web
Paris 75018
Versailles
Paris 75016
Paris 75008